Welcome to Camp Tuckabatchee
Camp Tuckabatchee is located 90 miles west of Chicago on Route 80 North of Ottawa, Illinois on Route 23. Camp covers 150 acres of wooded hills and valleys with trails running throughout. There are rustic cabins for sleeping in the main camp area. The main lodge features a dinning area with a huge stone hearth and modern kitchen. Volc Lodge provides year round camping with indoor restrooms, 2 fire places, furnace, and kitchen. Crooked Leg Creek provides a natural play area and lulls campers to sleep at night.
In addition to our summer youth camp program the camp is available for use by organizations, clubs, church groups and private groups.
Camp Tuckabatchee Inc. is a day and resident camp, established 1927. Camp Tuckabatchee is a community of camp professionals and is dedicated to enriching the lives of children and adults through the camp experience.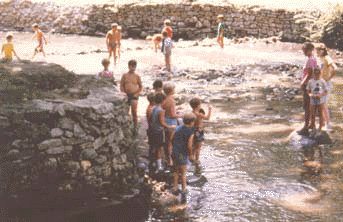 Camp Tuckabatchee provides a safe, secure, environment where each individual can develop an understanding of and an appreciation for nature. We are constantly striving to keep our facilities and programs current while maintaing strong traditional ties to the past.
Camp Tuckabatchee provides an environment free of technology. Campers interact with staff and others and enjoy the opportunity of a break from TV, cell phones, computers and electronics