Our 2023 schedule is set, and preparations are already underway as we have added monthly programs and activities for kids and families in addition to our summer resident camps. We are excited by our new schedule and hope you and your family will be able to attend some of them. This December we had our first 1-night camp over and we have monthly Camp-overs and Kids Night events scheduled for 2023. This summer we have added a Horses Mini-Camp and Adventure Mini-Camp where our morning program will be going to Cedar Creek Ranch for horses and then for the Adventure Camp, the canoe trip and zip-lining at Chicago Zip-line. Plus, both mini camps will feature traditional camping activities.
As for the camp itself, our newly donated property is a scenic area down by Indian Creek which will need work to make it a fun and safe area for our campers and guests. We have events planned in our back field and we are currently in the early stages to add new hiking trails. In the main camp, we have cabin shutters, screens and cots which need replacing. Our Volc Lodge(winter lodge) needs new windows and AC in order to make it more efficient year round. For the main camp, our 20-year-old dishwasher has seen it's better days and an outdoor kitchen would make it more attractive for potential rentals. In early 2023, we are revamping our website so camper families can create their own account to register and pay for camps, programs and events like you would on retail websites.
Camp Tuck Heroes & Donors
Even though Haunted Camp and Comedy Night will continue to be our event fundraisers, we have a couple of new ideas in the works as well, and we wanted to add the Heroes Campaign in 2023. If you would like to support all aspects of Camp Tuckabatchee, we would be greatly appreciative. Camp Tuckabatchee has existed since 1927 and continues to expand and grow. With your generosity and support we will be able to do just that.
Thank You so much. This is your chance to be a hero. Camp Tuck Avengers Assemble!
"With Great Power Comes Great Responsibility"
For your donation, your name will go on our Facebook page, Website, and, YouTube Channel
"I am Groot"
For your donation, your name will go on our Facebook page Website, and, YouTube Channel and a Camp Tuck Car Decal.
"That's what we call ourselves. Earth's Mightiest Heroes."
For your donation, your name will go on our Facebook page, Website, YouTube Channel, and a Camp Tuck water bottle.
We love you 3000!
For your donation, your name will go on our Facebook page, Website, YouTube Channel, Camp Tuck hoodie, and a photo on our social media outlets.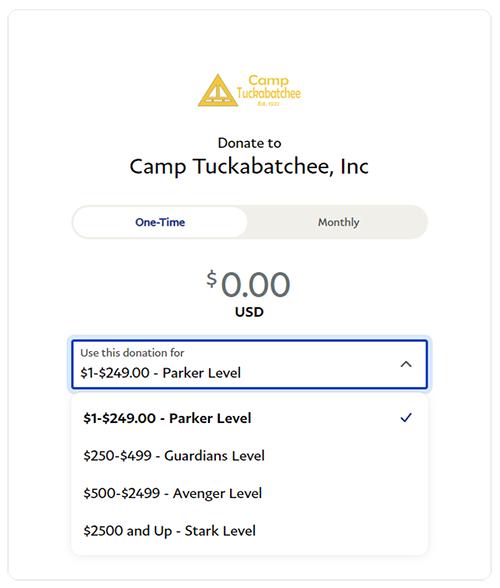 When you click the donate button below you will see the screen at PayPal to the right. From there you can choose the amount that applies to your Heroes Campaign Level. Your generous donation will be recorded and our staff will update the social media, website and gifts to be sent to you dependent on your level. Please remember to include your contact information at the checkout.
Potential Donors
The following are items and improvements that Camp Tuck is hoping to be able to do in the next year or two.
We hope you will be able to help.
Volc Lodge windows-quote from early 2022 was $10,000. Windows only, not installation

Volc Lodge chimney repairs-$12,000 quote from 2018

Volc Lodge AC-no quote but estimating from our heater install in 2022, $3000

We need a camp vehicle, truck preferred. We need to be able to haul and occasional trips to town. If anyone would be willing to donate one for the tax benefits, that would be tremendous.

Main camp dishwasher. 2022 quote-$18,000. Our current one is approaching 20 years old.

We would like to add an outdoor kitchen to the back of the main camp lodge to make it more attractive for potential corporate, wedding, and reunion rentals.

We would like to add a 2nd Kubota. Our current one was bought around 2008.

From the flood a few years back, our wooden sheds have since warped. We could use at least 3 new ones

For our new property that was donated in 2021, we have a beautiful creek area that needs work to clear brush, trees, weeds in order to make that area safe for our campers to use properly. We would like to add a shelter, grill, pier, floating dock for everyone to enjoy.
If you don't want to do an electronic donation, please make your check out to:
Camp Tuckabatchee
1973 N 35th Rd
Ottawa, IL 61350