Summer Program Philosophy & Purpose
Camp Tuckabatchee Inc. is an Independent Non-for-Profit Summer Youth Camp, Established in 1927
Our camp program is Co-ed. We are a Traditional – Nature-based camp.
We are not affiliated with any church or organization.
Overnight Campers
Campers 7-14 years live in rustic cabins, which are screened with wooden shutters. Our cabins are divided by age/sex.
Teen Travel Campers
Campers 13-15 years Live in tents. There are 20 campers in this Program and 2 staff members
Counselors In Training
'CIT'- 15 years old plus – 2-week program – Leadership program.
1
Our Team
Our lead staff is all 18 years or older, we recruit staff from colleges in Illinois & Indiana. Most of our staff are in college courses for Elementary Education, Parks & Recreation. We do reference checks on all employees and background checks.
Our staff attends a weeklong training session prior to working with our campers.
Our Program Director / Executive Director are on-site every day and live at the camp during the camping session.
We have an on-call nurse available while camp is in session. All parents will meet with the 1st Aid Staff as part of the check-in.
Camper FAQ's
We have 60-80 campers each week. We register campers on a first come first serve basis.
Prior to your child coming to camp, you will receive an emailed confirmation packet.
The confirmation packet will include a Supply list, arrival and departure times, and your child's address while at camp. A health history form, which does not require a physical, but is parent information.
Tours of the camp can be arranged anytime by calling our office and setting up an appointment.
Campers need no money while at camp. Our camp store is open during check-in and check-out only, for purchases of camp souvenirs.
Our kitchen staff prepares three meals per day. Campers receive an afternoon and evening snack.
Phone – The camper does not have access to telephones during camp, which keeps alive one of our valued traditions of daily mail call that is looked forward to by all campers and staff. Letters from home, friends, and family are great. Make sure everyone has your camper's 'camp address' and mail early, or bring mail for the week on the check-in and drop off in the camp office for delivery.
If you have questions at any time about how your camper is doing please call our camp office. The office is located at the camp and we will be happy to check on your camper and call you back.
Campers wake up at 7:15 a.m. and campers have lights out between 9:30 & 10:00 p.m.
3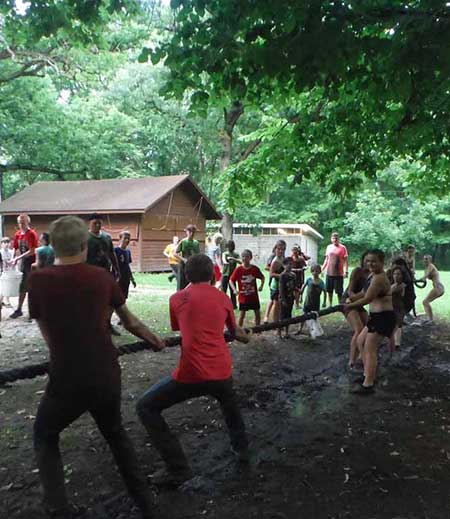 Other Activities
Friday's are fun all-camp activity day a theme is picked each week and activities and meals reflect the theme for the day. All ages participate in the fun Friday activities
In the evening we have all the camp activities.
Tuck Olympic's – mudslide – tug-a-war, etc.
Skits and Talent night – Staff and camper skits and talent,
Club Tuck – DJ music and games.
Carnival Night – Evening of games created by camp staff.
The closing ceremony for our campers is each Friday night for weeklong campers
The closing ceremony for our campers in mini weeks is their last activity during their stay